Looking for backyard patio paver design ideas for your house? Well, we are here to help. This page will provide you with 7 ideas to let you design your backyard patio with the perfect paver choice.
Before designing the patio paver, you have to choose the right kind of stones. Pavers come with an array of colors, sizes, colors, patterns, textures, and thicknesses. All of them should be considered based on your personal taste or whatever makes you comfortable.
1. A Curved Steps for Backyard Patio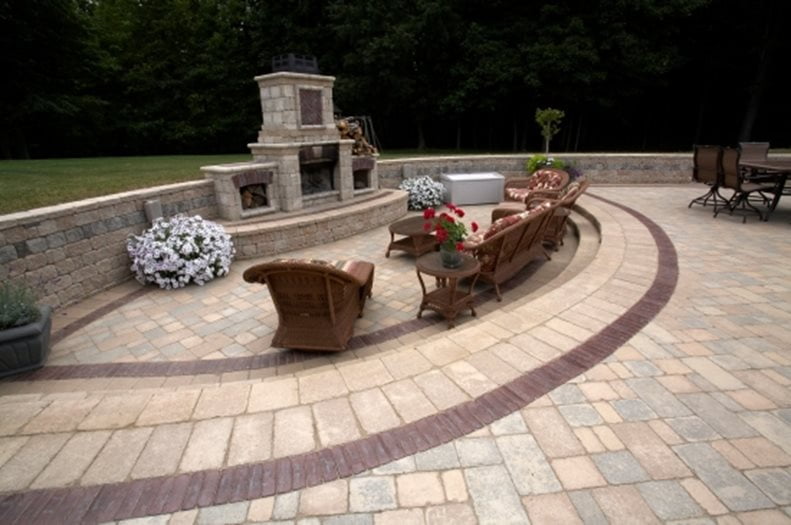 This patio uses precast concrete pavers which have the biggest range of sizes and shapes available as a single material. It features a nicely curved step which is enhanced by a series of bands in the paving.
The light-tone pavers are emphasized by the dark brick-like pavers to disguise slot inlets to a trench drain. In this limited space, you can create so much variety with the pavers. It's also not overdone in concept.
Pros:
– The paving design makes a perfect base for this patio
– The choice of pavers of this backyard patio is never dull.
Cons:
– As a whole patio, the color is very minimal.
2. Backyard Patio Paver with Green Combination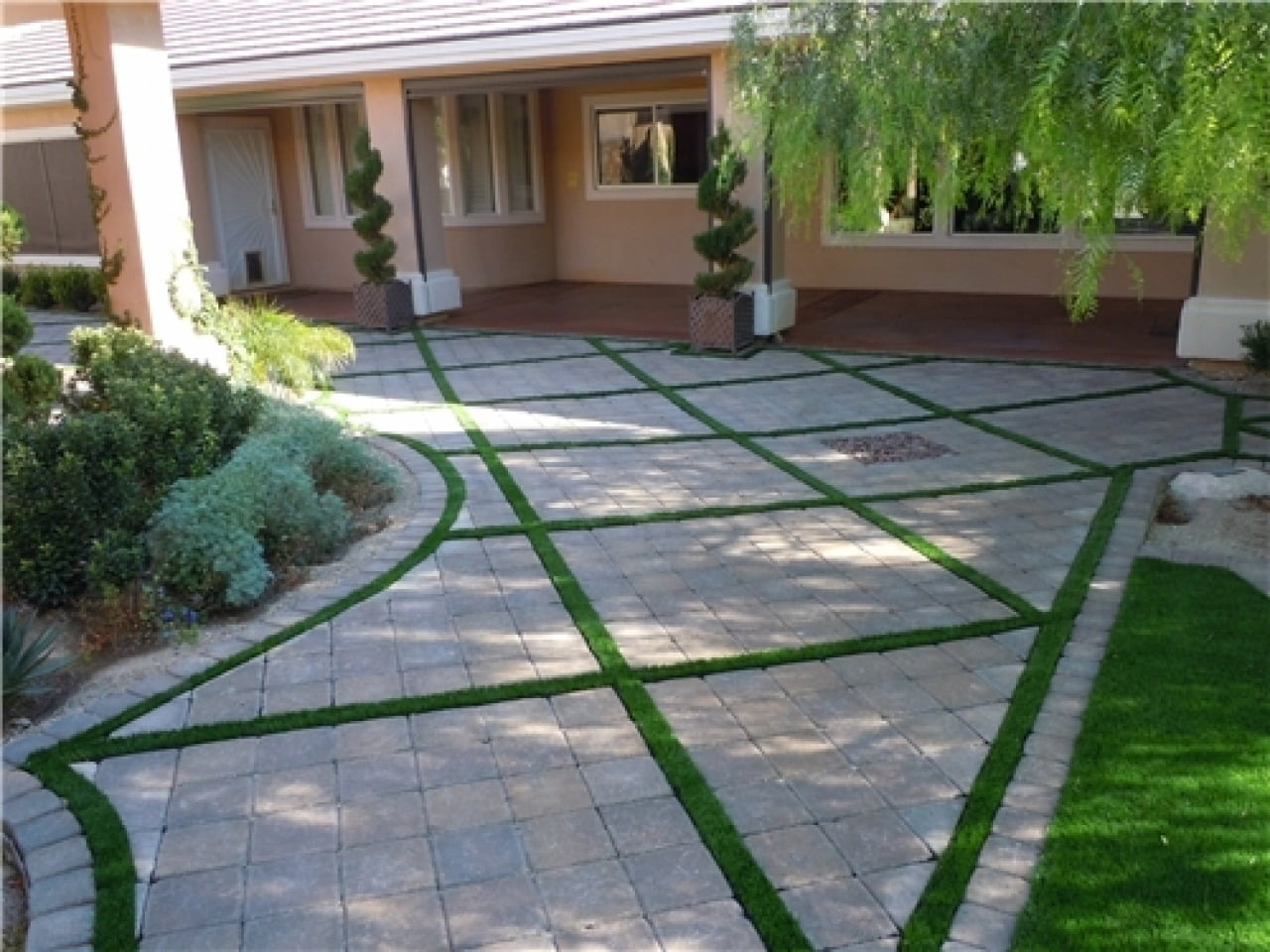 The green color comes from an artificial turf which applied diagonally on the pavers. You can do it to pavers because it's more easily cut then stone. So, it's easy to form a diagonal application to bring the turf in a dynamic way.
The reason why bringing artificial turf instead of the real grass because pavers would be heated easily in the summer. So, the real grass won't be able to survive the heat. For another season with less heat, real grass will work.
Pros:
– The contrasting color of green turf and earthy pavers is interesting
– Another reason to choose pavers for patio flooring
Cons:
– In the manufacturing process, artificial turf will cause pollution.
3. Backyard Patio Paver with Contrasting Colors
One of the most common ways to design pavers in the patio is to use contrasting colors. This house is located in the green area of the countryside in New York. This regional provides you with opportunities to use a more powerful color in paving.
This backyard patio blends a warm paver combination with a semi-herringbone pattern. It's accented by maroon and pale green-gray color of other pavers. The bold color from the sofa set supports the statement that the pavers make.
Pros:
– The choice of colors blends perfectly
– The deep dark green color of the sofa let the pavers shine brighter
Cons:
– There should be more bold colors involved
4. Interesting Paver Design for Patio
To create a maximum quality of the paving, you need to make sure that the pavers have a good solid edge. It can be done by using additional pavers, metal or vinyl edging, or a solid cement lip. It would be very helpful to minimize the effect of the movement of the pavers.
As you can see, this backyard patio has a gradation of grass color. It's from the green grass, yellow grass, to gray pavers.
Pros:
– It's got an interesting concept of paving
– The green and yellow grass is a clever idea
Cons:
– In the summer, it's not recommended to use this patio.
5. Bands of Bluestone in the Backyard
This is a backyard patio of a house which is located in San Francisco. It uses bands of bluestone combined with black pebbles. The paver existence becomes significant thanks to the colorful garden around the patio.
Pros:
– Most of the plants require low maintenance
– You can enjoy spending time with friend surrounding by a beautiful garden
Cons:
– The sofa should be moved when it's rain.
6. Backyard Patio for Dinner
Do you enjoy a barbecue party in the backyard? You can have your own barbecue or dinner occasions with family and friends in your own backyard patio. With rectangular pavers with random sizes and colors, you can enjoy your happy time in this attractive patio.
Pros:
– The earthy color of the pavers matched with the stone elements
– The vintage colorful chairs add a splash of color in this neutral space.
Cons:
– Why having a fireplace, when you can have an affordable option like a fire pit
7. Pavers and Pergola for Backyard Patio
This interesting combination of backyard patio paver design ideas should be in every house, especially if you have a large outdoor space. A pergola can give a touch of shades to the pavers when during the day.
Pros:
– Check out the vines that climb up the pergola. It makes a perfect natural accent.
Cons:
– The natural color of pavers is not interesting.
Conclusion
Choosing the right paver design can be challenging. That's why you need those backyard patio paver design ideas to get inspired.
Also read: How to Build A Freestanding Patio Cover