How to build a freestanding patio cover with best 10 samples ideas
---
Reading your favorite book while enjoying the cool breeze on your patio sounds awesome. However, you surely do not want to deal with the heat and the glare of the sun.
Therefore, you need to build a patio cover. Read on to find how to build a freestanding patio cover and some patio cover ideas.
What is a Freestanding Patio?
A freestanding patio is a covered patio that sits on your backyard without being supported by the house or other buildings.
Unlike the ones that rely on the roof, this patio features, at least, four posts that support the cover. That is why it is called a freestanding patio cover.
Since it sits on its own, it is varied in sizes and heights. It means you can build any patios that suit your style very well.
The Benefits of a Freestanding Patio
Many people prefer a freestanding patio to the one that attaches to their house because it has some benefits compared to its counterpart.
A Freestanding Patio is Usually Larger
Since the patio stands on its own in your backyard, you can build it as large as you want so that it can accommodate more people.
You can kill the time with your family outdoor without worrying about the heat and the glare of the sun. Just make sure your patio has enough support posts and beams.
A Freestanding Patio Tends to Be Easier to Install
Attaching the cover of your patio on the roof of your house can be arduous and harmful. If the structure of the roof is not strong enough, it cannot support the cover.
Unlike the ones that rely on the roof of a house, a freestanding patio is stronger and safer because it is supported by four posts that do not rely on any other buildings.
How to Build a Freestanding Patio Cover
Building a freestanding patio cover is not that hard, but it is not that easy, either. It requires, at least, intermediate carpentry skills.
If you are a complete novice at carpentry, you had better get someone that has more experience in carpentry to help you.
Before building a freestanding patio cover, you have to prepare the materials needed.
Supply List:
Circular saw
Hammer
Ladder
Shovel
Socket set
Jigsaw
4×4 pressure-treated boards
2×4 pressure-treated boards
2×10 pressure-treated boards
2×6 pressure-treated boards
Quick-dry cement
Gravel
Lag bolts
Galvanized screws
Level
Wheelbarrow
Power drill
Socket set
Post hole digger
Spade
Screwdriver
Step 1: Determine The Area
Before beginning to build a freestanding patio cover, you need to determine where you will build it. You can begin by marking the area where you want the cover to stand on.
You can use anything to mark the area. You can use some stakes and a rope to mark the section so that it will be more precise.
But if you want to mark it with simpler things, you can use spray paint or even boards. Anything will do.
Step 2: Dig Out The Holes
If you have marked the area that you are going to work with, dig out four holes using a post hole digger. Make sure that each hole is 24 inches deep and 9 inches wide.
Step 3: Get Rid of The Moisture
Wooden posts are prone to deterioration due to pests and moisture. To hold such damage at bay, you can try adding some gravels or crushed stone to each hole that you just dug out.
Add the gravels into the holes to a depth of three inches then tamp down the layer. After that, pour another three inches of gravel into the holes and tamp them down again.
Step 4: Begin to Place The Posts
After filling in the holes with some gravels, you can begin to place 4×4 posts into the holes. To keep them in place, brace them with 2×4 pressure-treated boards for support.
Before continuing to the next steps, make sure that the level of each post is precise.
Step 5: Add Some Cement Around Each Post
Make the mixture of quick-dry cement (you can see the label containing the directions on how to mix the cement).
Pour the cement around each post and let it sit for 24 hours so that it becomes completely dry. Once it dries, you can continue to the next step.
Step 6: Shape The Beams
Take the 2×10 boards and cut beams to whatever length you need. Each beam has to be able to cover the distance from one post to another.
If you want to add an accent to the beams, you can draw decorative patterns and cut them out so that you can get the beams that you want. But it will be quite tricky.
Step 7: Assemble The Joist Beams With The Main Posts
Now you can begin to assemble the joist beams and the main posts by drilling holes through them. Then, attach the beams to the posts using 3" lag bolts.
Do not forget to check the level of the beams before going on to the next step.
Step 8: Structure The Roof
To structure the roof, take your 2×6 boards. You can cut them down as needed. Since they will overhang a little bit over the patio, you need to make sure that you do not cut them down at the same length as the patio.
They have to be a bit longer than the patio. If you have cut them down, you can begin to arrange them so that they cross the joist beams and create a perpendicular pattern.
Make sure they are evenly placed across the top of the patio. Keep them in place by installing galvanized deck screws.
Step 9: Double Check for a Better Freestanding Patio Cover
Now you have the structure of a freestanding patio cover. You can begin to cover the patio with the materials of your choice such as lattice wood, translucent fiberglass, wood and shingles, metal panels (aluminum), boards and netting, or canvas shade sails.
The structure that you have just made is the simplest one. There are various kinds of structures available that suit your patio very well.
But you have to remember to double-check the level of the whole patio before adding the roof. For more freestanding patio cover ideas, check out these ten fantastic patios.
1. Plastic Freestanding Patio Cover Idea
Having breakfast outdoor is just a terrific idea to spend your weekend. You do not need to take a road trip to make it true.
You can do it right in your covered patio in your backyard. This freestanding patio features a plastic cover that sits perfectly on the beamed ceiling.
It helps you keep the glare and heat at bay. You can still enjoy your breakfast outdoor even though it is raining because the cover is water resistant.
The good thing about plastic materials is they are usually less expensive than wooden materials.
Therefore, this freestanding patio cover will just make a perfect shade without burning a hole in your pocket.
2. Aluminum Patio Cover Idea
Aluminum has been widely used not only for kitchen utensils but also patio cover because it is very versatile. It can look as good as wooden cover, but it is more affordable.
This white freestanding patio looks really great with four rounded posts. The curvy edges suit the beams very well. To create some cool breeze in the patio, a fan is hung on the aluminum cover.
This patio just needs some furniture to make it a cozy place to enjoy your me-time with your family.
Pros:
Aluminum is easy to maintain.
It is also easy to clean and install.
It is not easily affected by rain and sunshine.
Con:
Aluminum cover is prone to ding.
3. Freestanding Patio Cover with Traditional Accent
This patio provides a bit traditional accent to your backyard. It is like the ones that you can encounter in Bali.
The stained wooden posts give a more natural and impressive look to the patio. The exposed beam ceiling makes the patio look more attractive although it does not feature sophisticated patterns.
The black roof shingle plays an important role in creating the traditional ambiance. It suits the chairs perfectly.
Since the roof slopes down from the center, it does not accumulate water, snow, and leaves which makes it easier to clean.
4. Tongue and Groove Freestanding Patio Cover
This patio is such a great place to spend your afternoon. It can also make a great living room in which you can invite your friends and colleagues to come over for some tea or coffee.
Each post features natural stones that complement the fireplace as well as accentuating the patio.
The tongue-and-groove ceiling creates an epic finish look. Each of the roof sides has a glass window that allows natural light to pass through.
Pros:
Natural stones around each post are the icing on the cake.
The tongue-and-groove ceiling makes the patio look more attractive.
Con:
Installing tongue-and-groove ceiling can be arduous and take a lot of time.
5. Wooden Freestanding Patio Cover on Budget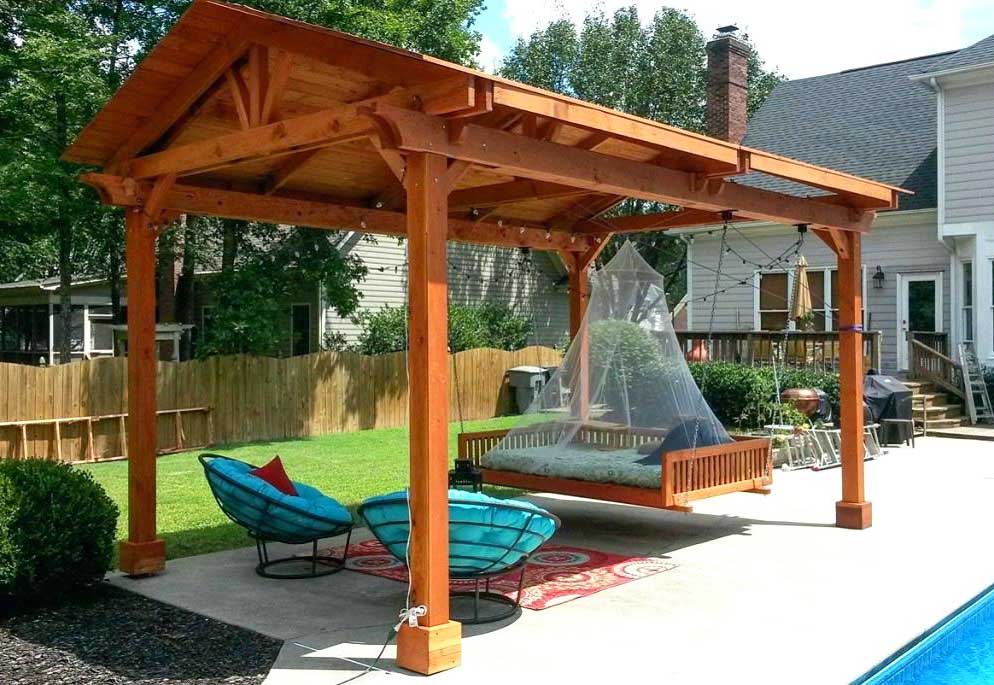 Lounging by the pool is really nice. But it is not that nice if the sun is too hot or the rain comes. Thus, you need a freestanding patio cover to sit back and enjoy the view of your backyard despite the weather.
This wooden patio cover is such a great idea for those who want to salt away some money. It does not feature any sophisticated pattern, even the posts are just simple.
The only curvy edges are found in the joist beams which are not too complicated yet accentuate the cover very well.
The patio features two wire chairs and a swinging bed. It will be nice to lounge on the swinging bed while reading your favorite book.
And the most important thing is you can get all these wonderful things at an affordable price. Being comfy does not have to be expensive, does it?
6. Freestanding Metal Roofing Patio Cover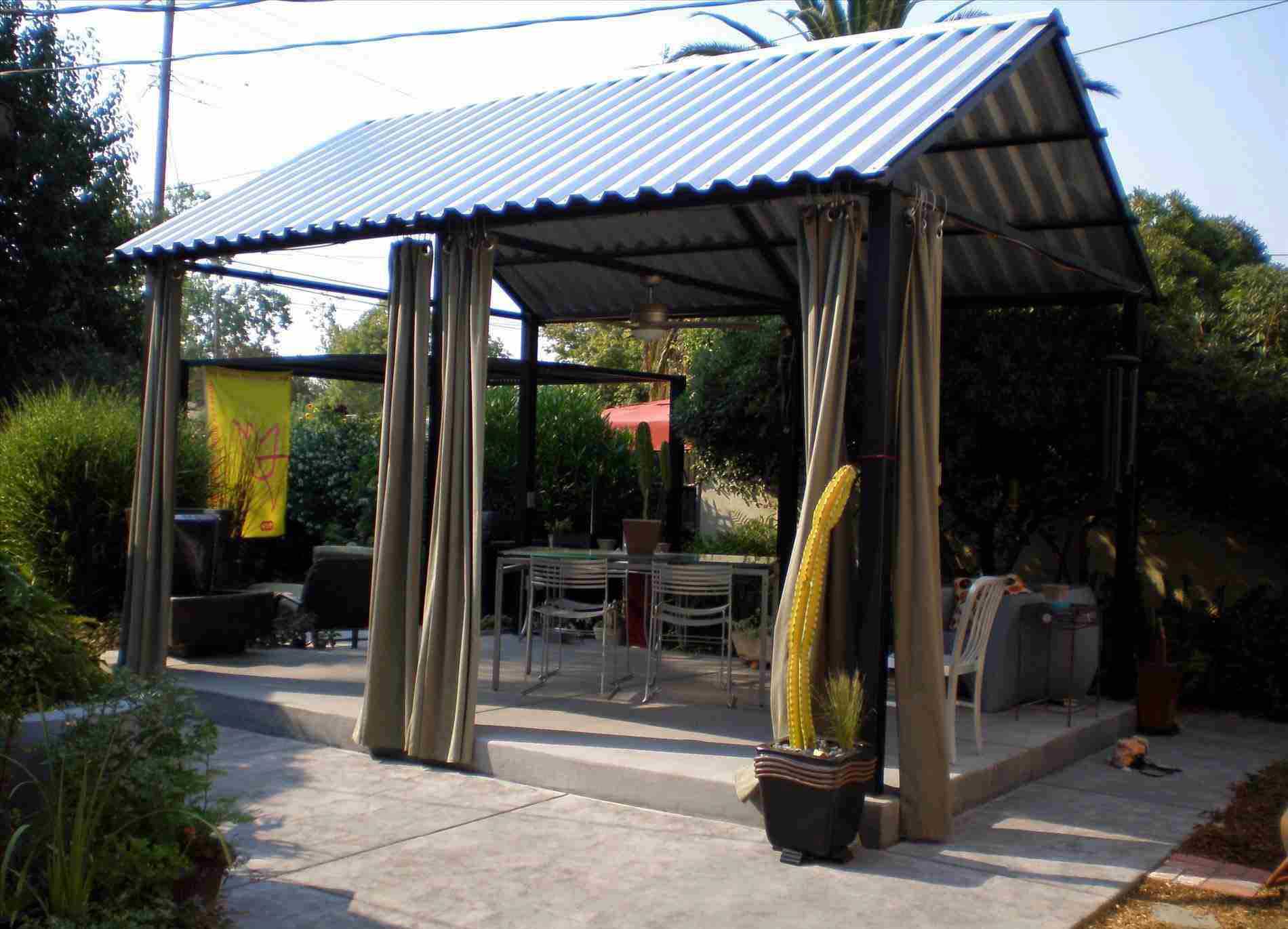 The aim of building a freestanding patio cover is to protect you from the rain and the glare of the sun. Therefore, you can use any materials for the roof including the tin roof.
Tin roof, just like any other metal roofs, has many benefits. Tin roofs are more durable than wooden and plastic roofs. They are also lighter which makes them easier to install. They are also resistant to fire.
This patio features a very simple structure and there is nothing wrong with that. The simple structure tends to be practical rather than aesthetical.
The black metal posts and beams are sturdy enough to support the tin roof. To get a cooler breeze, a fan hangs over the table.
7. Classic Freestanding Patio Cover
The classic look is timeless. The wooden posts denote the classic touch to the patio. And the shingle roof sits perfectly on the exposed beam ceiling. A fan hangs above the black ottoman that has the same color as the roof.
Although this patio is not too spacious, it is still cozy enough to spend your spare time while slurping some tea in the afternoon and enjoying the spectacular landscape.
8. Fiberglass Freestanding Patio Cover
This all-white patio perches on four stone posts. The rounded white posts look elegant and suit the window trims very well.
The beams feature curvy edges that make the patio look more attractive. And the fiberglass roof is just nice. It protects you from the rain, but it does not hinder you from getting the sunlight.
9. Luxurious Patio
Having a barbeque party outdoor can be a great idea to spend your weekend. This patio cover will ensure your ultimate comfort when having the party although it is raining outside.
However, to build a luxurious freestanding patio like this one, you are going to spend more money and time.
10. Pergola Style Patio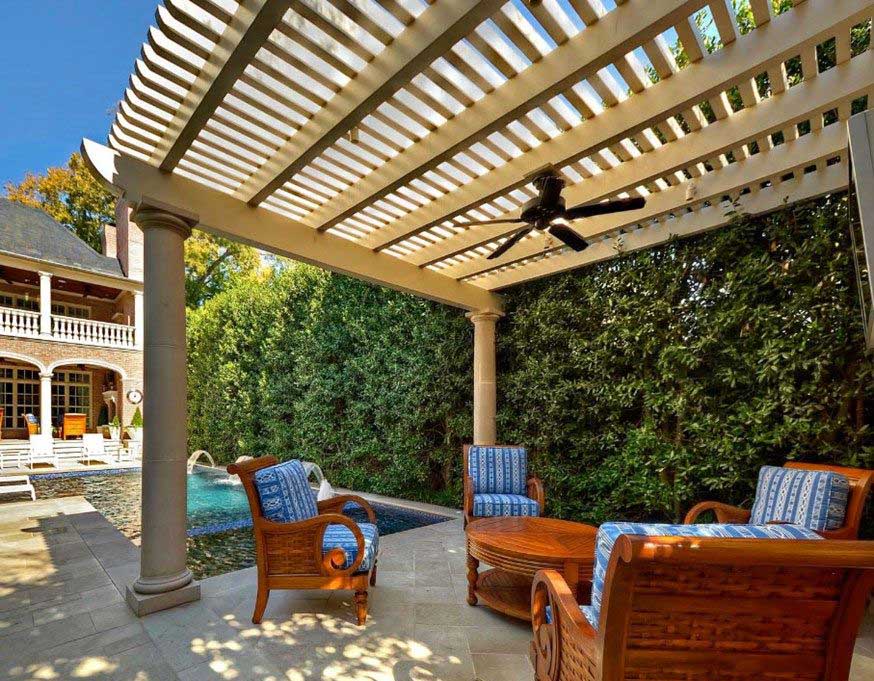 If you enjoy sitting in an armchair in your patio and the sunlight is not a big deal for you, a pergola-style patio cover will be suitable for you.
This kind of cover will only shade you against the sun, but not block the sunlight completely.
Hint:
It would be more beautiful if you added roses on the roof.
***
Now you know how to build a freestanding patio cover and some patio ideas. The steps shown in this article are very simple, but you will still need some assistance. Good luck!
Also read: How to Clean Concrete Patio Without Pressure Washer