Metal building homes are getting popular these days. If you are thinking about having a metal home built, check out these 7 jaw-dropping metal homes so you can consider whether this kind of home meets your needs well.
1. Simple yet Elegant Metal Building Home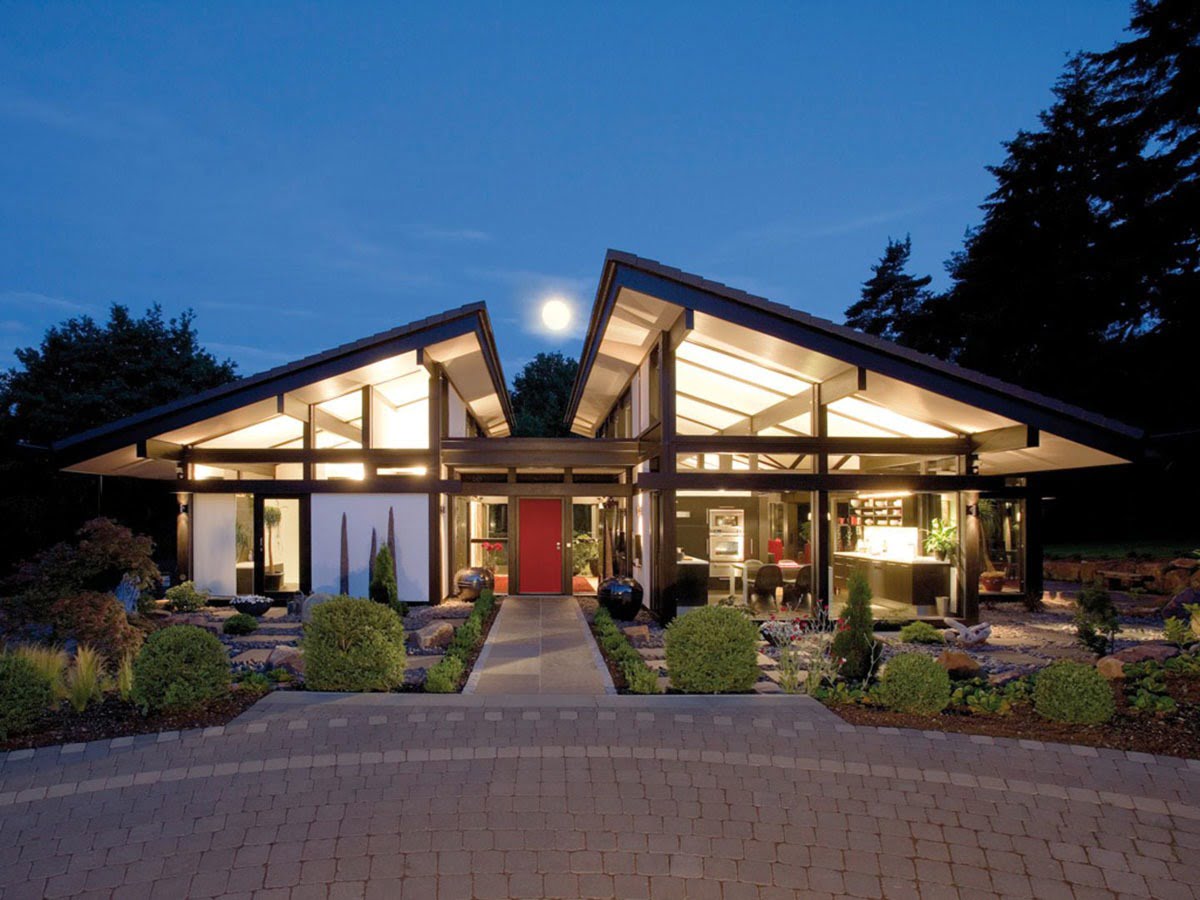 This metal home features a simple yet artistic design that can please everybody who sees it. The sloping roofs are split symmetrically, which makes them look like a twin home.
Besides the artistic building, you can enjoy the unrelenting charm of the backyard and side yard thanks to the floor-to-ceiling glass walls that allow you to see what is outside.
It would be better if you hang curtains so you can still have your ultimate privacy.
Pro:
Metal building homes are durable.
Con:
They are prone to corrosion and rusting.
2. Minimalist Metal Home with Pool
Metal homes can be as stylish as the other materials. If you are a big fan of modern homes that entail minimalist design, metal structures can give you an epic one.
This metal home features a minimalist design that you will love. It also has an in-ground pool with a concrete pool deck so you can lounge on the chair if you do not feel like swimming.
Pro:
Metal homes can be personalized to your liking just like any other homes.
Con:
Your health might be at risk especially if you are allergic to metal and its special finishing paint. And when mold occurs, it will get worse.
3. Metal Building Home with the Touch of Rustic Look
Metal homes are quite versatile. They not only make an artistic modern house with a minimalist design but also an epic rustic home.
This living room is a great place to relax with your family. The stained dining table and leather upholstery chairs give you a comfortable place to eat the meals. Wood and natural stone accents accentuate the rustic look of this living room.
Since metal homes accommodate insulation that keeps the temperature stable, you can lounge on the sofa while catching up with your family comfortably. The earthy color hues make it become more comfortable.
Pro:
Metal homes are energy-efficient thanks to the insulation that keeps them at their comfortable state without extra heating and cooling.
Con:
4. Red Barndominium
Barndominiums are usually constructed of metals. If you want to have one, you can either build it from scratch or repurpose an old barn.
If the later is your choice, you are going to need to raise the flooring a few inches off the ground to remove the dirty floor before pouring the foundation.
You might also need to replace the roof so you will not be freezing because of the low temperature and rebuild the frames for the peace of mind.
Pros:
Metal homes can be built faster.
A barndominium provides a distinctive look.
Cons:
They are more expensive than wood.
You will need more money to build a barndominium since it requires more metal and special screws.
5. Modern Two-Story Metal Building Home
This two-story home is suitable for a big family. The spacious floorspace which forgoes the walls that are usually used to separate the rooms allows you to throw a party.
This home also features a deck on the first floor. It enables you to see the beautiful scenery of your backyard landscaping better. It is also quite spacious so you can have a small barbeque party there.
To add more warmth to the exterior design, wood planks are used as the accent, making this modern home look more fantastic.
Pro:
Metal homes are spacious because they do not have walls separating one room and another.
Con:
They are not good for a multi-story building as they are susceptible to fatigue. When the metal structure loses its ductility, they become brittle and can bend eventually.
6. Stunning Living Room of a Metal Building Home
This grey living room is furnished with clear-cut furniture that denotes a modern style. The kitchen looks bigger since there is no wall that confines it. Merging the living room and kitchen is the best way to expand the limited space.
Pro:
Metal buildings are easy to expand and flexible.
Con:
Their initial costs are pretty high.
7. Metal Home with Backyard Landscaping
Just like any other homes, metal homes can have a pleasing backyard. Here you can sit back and relax while maintaining a warm conversation around a firepit.
Pro:
Metal homes can bear high winds and heavy snow loads. They are also resistant to pests and decay.
Con:
Although metal homes are less flammable than their counterparts, they can be damaged if exposed to fire relentlessly.
Metal building homes are as comfortable as homes constructed with woods. They are also durable and affordable.
However, if you are going to build a multi-story building, combining the metal and concrete would be a sturdy choice.
Want to Have Metal Building Homes? Read more about Metal Building Homes Buying Guide with Kits, Plans, Cost and Insurance
Sources:
https://www.cottesmore-ag.com/