Searching for some simple yet lovely front yard landscaping ideas with pavers to transform your boring exterior design? No worries since you'll discover a few amazing ideas to design your front yard area on this page.
You all know that sometimes it is hard to determine the right thing to do with the front yard. There will be numerous considerations that you should take into account. But the point is to make the front yard seem as welcoming as possible.
To help you set your mind to transform your current front yard into something in a different level, I've collected some best front yard landscaping ideas with pavers that you can find as follows!
1. Simple Pathway with Classic Boxwood
If you find that your current paver walkway seems too boring, consider adding some greenery and flowery touch all the way.
A few boxwoods planted beside this paver walkway present a new look in this front yard landscaping. For a pop of color, plant greenery in a variety of colors.
Pros:
The boxwood is easy to maintain and can be shaped into various styles.
The flower window box provides a unique touch.
Cons:
The greenery seems to be planted half-heartedly, you may consider including more greenery to this idea.
2. Charming Paver Driveway
If you are looking for front yard landscaping ideas with pavers that can amaze your visitors, take this charming idea into account.
Investing in a charming driveway like this one, and take time to find the ideal concrete pavers to match your house is certainly well worth it.
Pros:
The well-surfaced driveway is so much welcoming for both you and your visitors.
Cons:
The curb of the driveway typically requires high maintenance.
You may need to take much time to find the perfect concrete paver to suit your architectural style.
3. Brighten Up the Front Yard with Color
There are numerous ways to brighten your front yard with color. From planting brightly flowered plantings to installing rich hues of brick pavers, you can easily splash a color to your front yard.
Color can be employed to draw the eye from the street, improve particular features in your front yard, or simply add fun and more cheerful environment.
Pros:
You can stick to two or three primary colors only.
The limited colors used throughout the yard can maintain a sense of elegant chromatic theme.
Cons:
It works better in such a wide front yard.
4. Interesting Walkway with Beautiful Flowerbeds
This is another simple yet beautiful front yard landscaping ideas with pavers that you'll love for sure. The walkway can be either functional or be benefited as a method to offer a tour of your landscape features.
Designed with a water feature as the center point and beautiful flowerbeds on both sides, the walkway serves interesting sight for any visitor.
Pros:
The combination of white hydrangeas and the evergreen makes a lovely sight in the walkway.
Cons:
You may need to work with professionals to get the most of this front yard landscaping.
Regular maintenance is required to keep the evergreen in shape.
5. Stunning Lighted Walkway
Do you love to invite your neighbors for evening parties? Well, it will be one of the best front yard landscaping ideas with pavers for you.
Illuminated your paver pathway is perfect for those who like to host evening events. Combine bright and dark colored pavers, and then install low-voltage path lights along the walkway.
Pros:
The paver pathway is designed in such a unique shape.
The two unique planters beside the front door make a lovely complement to the home.
Cons:
There is no much color involved in the design.
6. Classic Entryway with Structured Evergreen Beds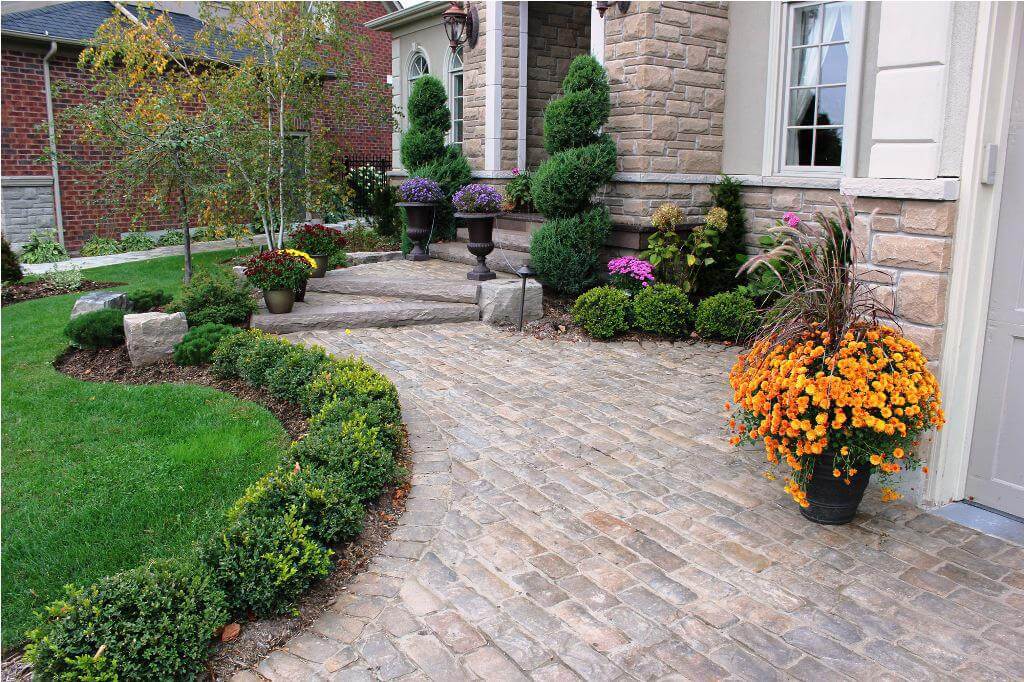 No matter what kind of climate or what style of home you own, a permanent and structural evergreen landscape offers an easy-to-care and easy-to-update look in your front yard.
The typical low boxwood hedge and topiary evergreens bring dramatic sight to the entryway. To splash a color, a pot of spring flowers is added around the entryway.
Pros:
The spring flowers can be substituted easily to other flowers as the season changes.
This style of front yard landscaping ideas with pavers is almost generally pleasing and easy to care.
Cons:
The multi-trunked tree is not really necessary.
7. Let the House Do the Talking
I've covered a variety form of landscaping in this page, but sometimes, it's great to let the house become the focus of your front yard.
This stunning home with exposed brick style is probably best served by maintaining the landscaping to a minimum.
Pros:
The greenery is easy to care and looks great throughout the year.
Simple and small flowerbed is enough to splash color.
Cons:
The grass must be neatly trimmed on a regular basis to get the most of this front yard landscaping ideas with pavers.
There you have them; all seven front yard landscaping ideas with pavers. Hopefully, the list above satisfies your need for inspiration.
Sources:
https://www.landscapingnetwork.com/pictures/walkway-and-path_4/60185-il-grant-power-landscaping-front-yard-paver-path-front-yard-beds_8784/