For most people, enclosed patio designs would be their idea of a dream comes true.
Whether it comes with four season enclosure design or screen room design, the enclosed patio is just a versatile place outside your home in which you can sit and relax or enjoy hosting events and parties at home.
The good news is that there are a lot of ideas to look out there. If you want to make your own but don't know how to begin with, I've put together a few ideas below for designing a stunning enclosed patio that you'll definitely love!
1. Striking Covered Patio with a Gable Roof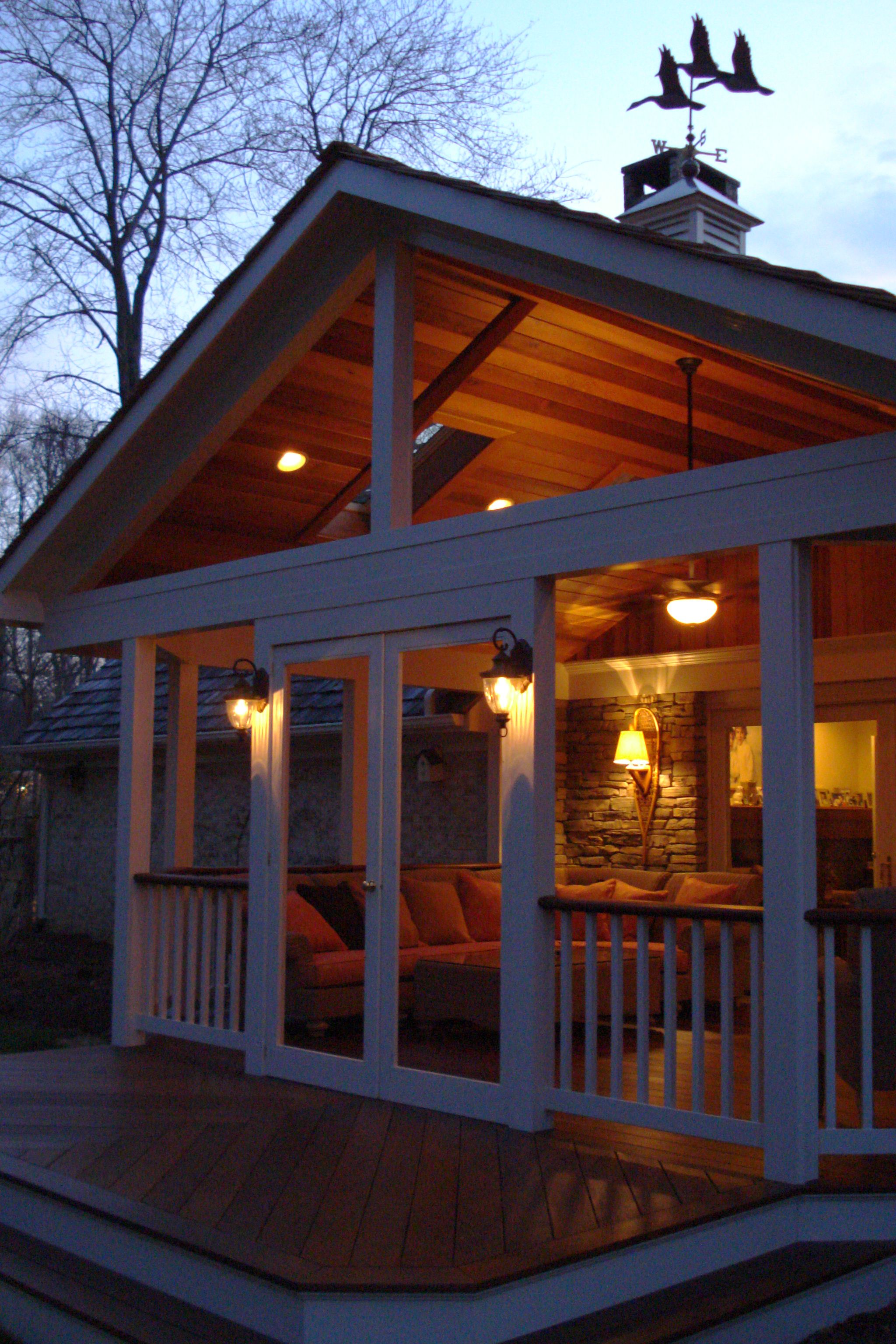 This is one of the best ideas for the enclosed patio designs. Coming with a spacious design, this covered patio allows you to feel like you're completely outside.
You can read, dine, and hang out with your family or friends when the weather does prevent you to go outside. With some lights installed in the patio, it'll be an inviting space too in the evening.
Pros:
The L-shaped couch provides enough space to accommodate more people in this outdoor area.
Cons
The design might not be able to handle heavy winters or extreme summers.
Cost:
The cost to build it is about $6,500, considering that you do the work yourself.
2. Inviting Three-Season Enclosed Patio
If you have a tiny patio area, this is one of the best enclosed patio designs that you can look to. The enclosed design makes it an insect-free zone which is perfect for hot summer nights.
The additional roof is attached to the current roof of your house. Overall, the design offers such a great place to enjoy the best of both the inside and the outside world.
Pros:
These screens can be built-in with glass windows, so the area can be enjoyed in the colder seasons too.
Cons:
You may need to hire a professional to do the job.
Cost:
The cost to build an enclosed patio like this is about $13,000.
3. Enclosed Patio with Year-Round Elegance
This enclosed patio is essentially all glass with a roof that fits the house and doors that release wide onto the deck, creating an impressive indoor/outdoor entertaining space.
Pros:
The enclosed patio offers a cozy space for enjoying the outside world all year round.
The white screens make a great match to the exposed-brick walls.
Cons:
This small patio space may not be able to accommodate an event at home which invites many people.
Cost:
Depending on the materials that you'll choose for the enclosed patio designs and how you build it, the cost may vary. But, this kind of patio remodels usually costs around $6,000 to $14,000.
4. A Comfy Enclosed Rooftop Patio
This roof deck patio may be small but it offers the most privacy and the best views. You can easily dine, read, or have a nap comfortably on this space without any distraction.
Overlooking the green views afar, this roof deck patio can be enjoyed throughout the year thanks to the enclosures.
Pros:
The shades of orange used in this room make the space look warm and inviting.
Cons:
The planter doesn't make any essential touch to the whole design.
Cost:
To build this kind of enclosed patio designs in your home, you may need to prepare for $13,000.
5. Modern Screened Patio with Floral Touch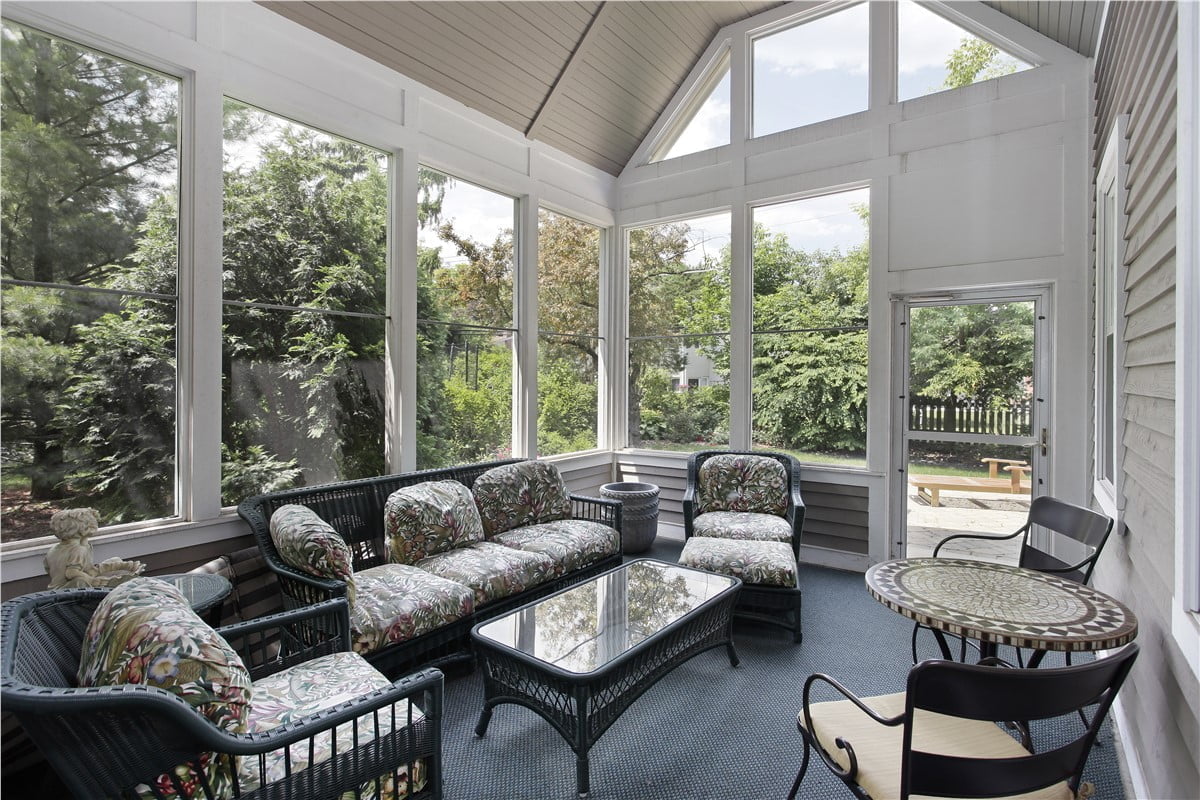 Screen rooms are a popular choice among homeowners who want to enclose their patio area. This screened patio design can be a perfect alternative for an outdoor living room. You can enjoy having a conversation with your guests in this room.
Pros:
The floral cushions perfectly match the overall design.
Cons:
These screens are typically not always weather-effective, especially with snow.
Cost:
The cost of this design is around $5,000 – $10,000, considering you've already had the patio space ready.
6. Lovely Sunroom with Attached Flower Garden
Sunrooms can be the "true" add-ons to your house. It is a kind of enclosed patio designs that are created to match the rest of your house and act like a room addition.
Pros:
The attached flower garden on both sides of the sunroom makes a lovely view either from outside or inside the room.
Cons:
The wide screens do not provide privacy to your patio area.
Cost:
Sunroom design like this typically costs around $15,000 – $22,000.
7. Beautiful Glass Enclosed Patio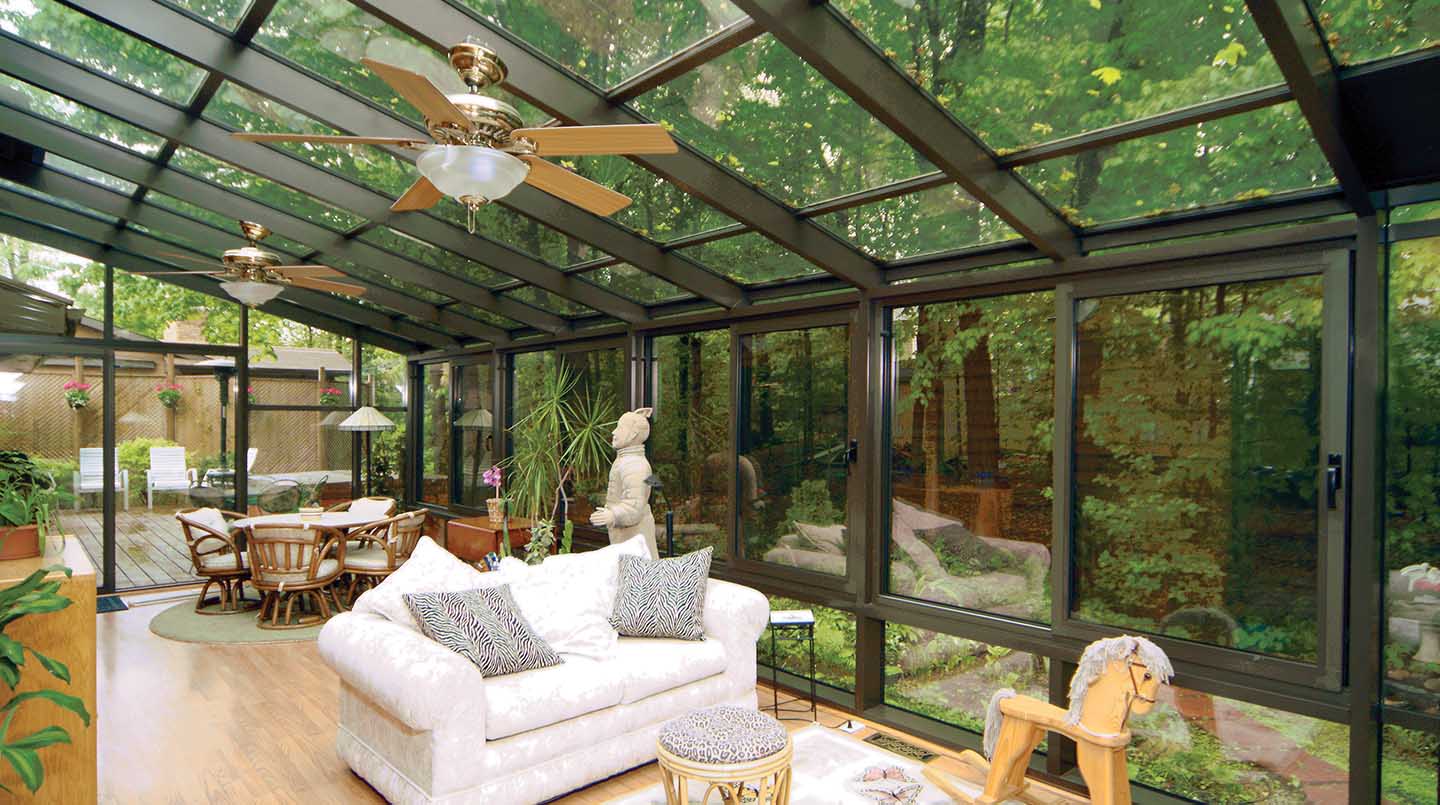 With both roof and walls are made of glass, your patio area will give you the best of both outdoor and indoor space.
This glass enclosed patio allows you to enjoy warm summer days while dining out with your family and friends or while reading your favorite books.
Pros:
The white couch offers both style and functional seating area to get relaxed.
Cons:
This design works better with a spacious patio area.
Cost:
The cost of this kind of glass enclosed patio designs is starting from $20,000.
Well, congratulations! Now you know some best enclosed patio designs along with the approximate cost for each of them. Find yourself the best design that matches with your liking and whole scale concept.
Also read: Build A Freestanding Patio Cover