One of the best ideas to apply in your small backyard is a DIY fairy garden. With this kind of beautiful mini garden, you'll have some whimsical fun in your landscape whether it's backyard or front yard.
Designing a small outdoor space can be tricky. Everything you are about to add to space should be considered first. Landscaping is something essential you should have in your backyard in order to make it comfortable and enjoyable.
Here are some DIY fairy garden ideas you need to see.
1. Rock Fairy Garden with Bucket
Rocks are used to base this fairy garden filling an old wooden bucket. A small watering jug could be repurposed to become the focal point of this fairy garden. It's got a mushroom tic-tac-toe game that makes this fairy garden more fun.
Of course, it requires creativity to form this impressive fairy garden. A lot of small rocks would be needed as the base and some green plants should be planted as the accents. It's going to be both fun and natural.
Pros:
– The natural combination of a fairy garden
– The mushroom tic-tac-toe game is very thoughtful
Cons:
– The design of watering can require special crafting skills
2. A Fairy Garden into a Retaining Wall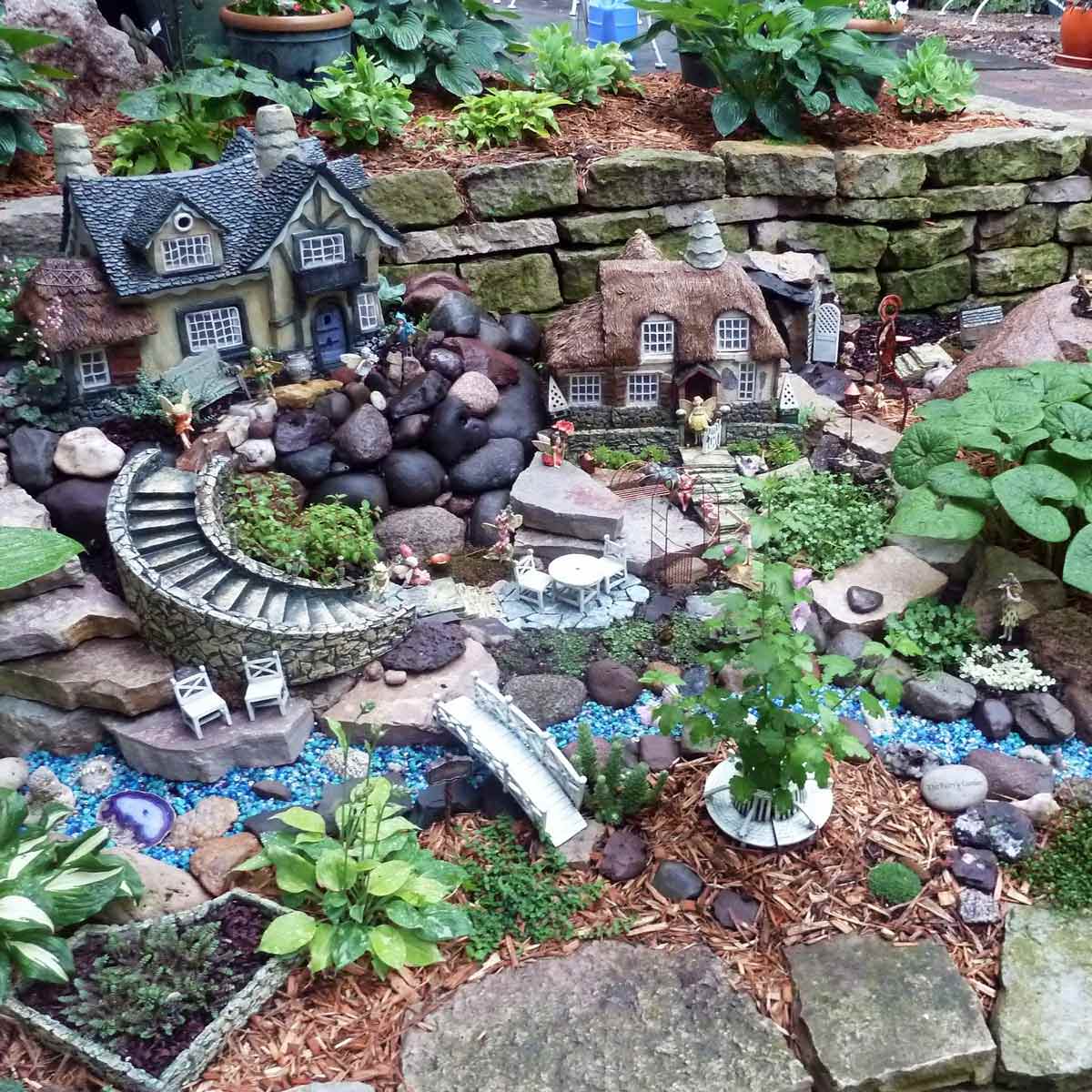 This retaining wall fairy garden looks very detailed. It's a great idea you can have if you have such a wall in your outdoor space. Or, you can just build one from scratch.
It's got a miniature mansion made of rocks. With nice curving stairs, this fairy garden looks fantastic and so earthy. In order to represent the water flow of a river, the small rocks are painted blue. Above the river, you could see a tiny little white bridge.
Pros:
– It's cool that it's a DIY project
– The blue rocks as the water is a clever idea
Cons:
– You've got to have a sense of art to build this.
3. Fairy Garden from Drawer
A summer style fairy garden would be an eye-catching choice for decor. This fun caravan drawer garden looks complete. You can have a fairy garden using any compartment possible like this drawer.
You can have your old drawer for the base and any vintage suitcase for the miniature house. If you use fake plants, you don't need to make drainage holes in the container. But, it would look better and fresh with a real plant to make a real garden.
Pros:
– The fairy garden is filled with grass and plants which formed natural scenery
– The choice of accessories are so detailed
Cons:
– It looks a little bit crowded because of too many accessories.
4. Birdhouse Fairy Garden
There are two mini birdhouses in this fairy garden which is become the focal point. It doesn't take much more than the small flowers, miniature fence, and a bunch of grasses with dark soil. You can make use of your ordinary flower put into a source of attention.
Pros:
– It doesn't take many accessories to make
– It's easy and budget-friendly
Cons:
– The dark soil is dominating the view
5. Beach-Themed Cute Fairy Garden
Take a look at this cute fairy garden; it's something you can have in your outdoor space as a decoration for the summer. The beach-themed fairy garden will make your tropical party more fun.
Add some sparkly seashells and beach-style stones in a tin compartment. But first, you need to fill it out with sand from the beach to make it look like a beach themed space. It's filled with some beach themed accessories including lighthouses, deck chairs, and sandcastles
Pros:
– It's a cute miniature of beach picnic for the outdoor space decoration for the summer
– Even though space is small, the elements are not crowded
Cons:
– For some people, it's probably too small for a garden.
6. A Fairy Garden from a Wash Tub
This wash tub house can make a great fairy garden for your outdoor space decoration. You can pick any old washtub you have to turn it into a fairy's heaven. You can fill it with mini trees, a porcelain mushroom, tiny succulent plants, and more.
Pros:
– It's very simple and easy to make
– It won't waste any budget to make
Cons:
– It's only recommended for a rustic theme
7. A Fairy Garden to Get Ready for Summer
Get ready to escape for your summer because this fairy garden can be your summer escape. You just need a wooden container, a few plants, accessories, and some potting mix. Then, you can add a little bit of creativity and a dose of imagination.
Pros:
– It looks perfect for the summer
– The wooden pot should be used in many fairy gardens
Cons:
– The space is very small
Conclusion
With a DIY fairy garden, you can have the opportunity to have an actual garden in your small outdoor space. You can achieve a fairy garden using lighting, seats, paths, flowers, grass, shrubs, small trees, and more.
Sources:
https://www.awaywiththefairies.ie/fairy-garden-ideas.html
https://www.countryliving.com/gardening/garden-ideas/g3417/fairy-garden-ideas/