Barndominiums are becoming one of the hottest ways to build a new house today. Offering a beautiful and roomy space, a barndominium house can always be an ideal choice for any homeowner.
With the right barndoniminium floor plans and designs, it's no doubt that you'll get the most of this house.
If you're into the exterior design of a barn but don't want to live without the comforts of an actual home, barndominium is surely the best place for you.
So, I've put together seven best floor plants below just in case you'd like to build your own barndominium in the future.
1. One Bedroom Bardominium with Shop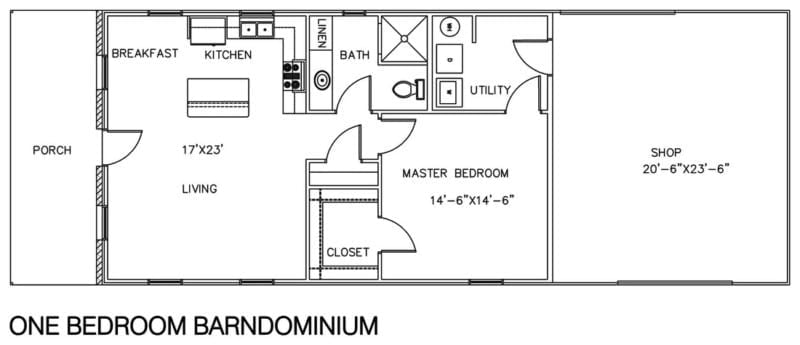 This barndominium floor plan is considered as the most basic one of all. It only has one bedroom and one bathroom.
Then, in addition to the must-have spaces like living area, dining room, and kitchen, there is a spacious shop at the back.
Pros:
The floor plan suits you who have a tight budget.
The plan is simple, so it doesn't take so much time to build this barndominium.
Cons:
There is no storage room, so you need to think twice before storing your stuff.
You can't provide your guest with a private room in case someone wants to stay overnight.
Price:
The average cost of basic barndominium is around $95 to $125 a square foot.
2. Family-Friendly Barndominium with Two Bedrooms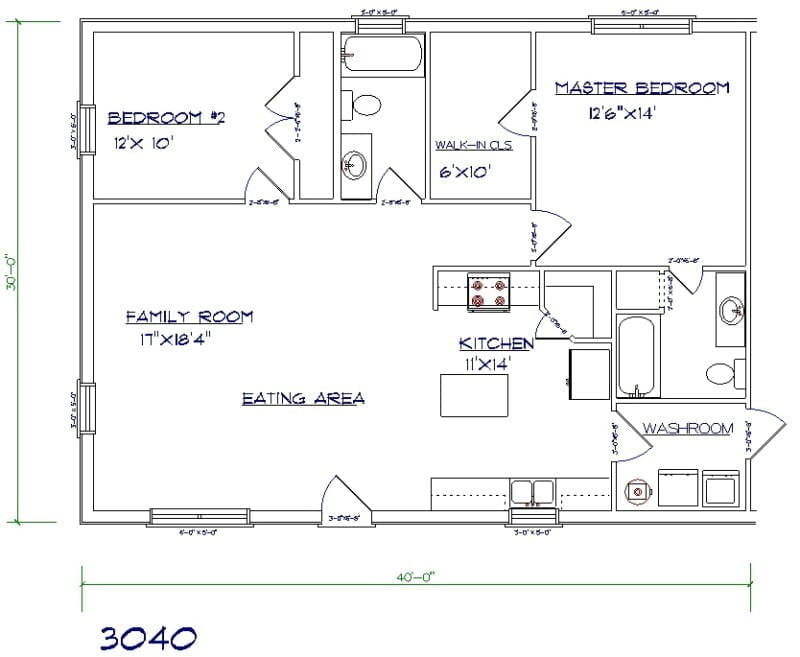 Not only offers a nice sanctuary for your family, but this one of classic barndominium floor plans is also perfect for you who have young children.
The plan allows you to have two bathrooms in which each one can be accessed from the one bedroom. So, both you and your kid don't need to get out of the bedroom to go to the toilet.
Pros:
The plan is wide enough to build another room.
Cons:
It costs more than the previous plan.
Price:
The final cost until the project is finished can be between $120,000 and $170,000.
3. Open-Floor Barndominium with Three Bedrooms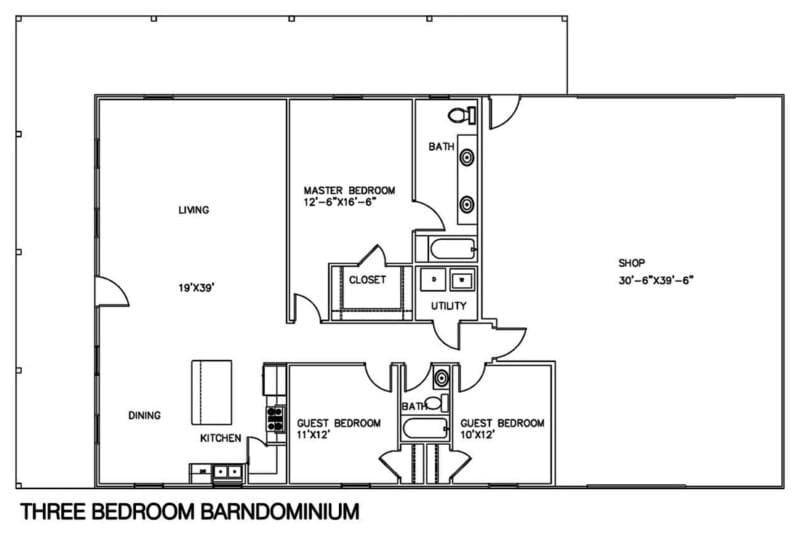 This floor plan is ideal for you who'd love to have some guests to stay overnight at your barndominium. With a spacious open-floor area that holds the living room, kitchen, and dining room, the plan is perfect enough for your need.
Pros:
Your children and guests can have their own private rooms.
Cons:
The shop is too large when you can actually use it to make another functional room.
Price:
The average cost of a finished project is around $200,000.
4. Two-Story Barndominium for Small Space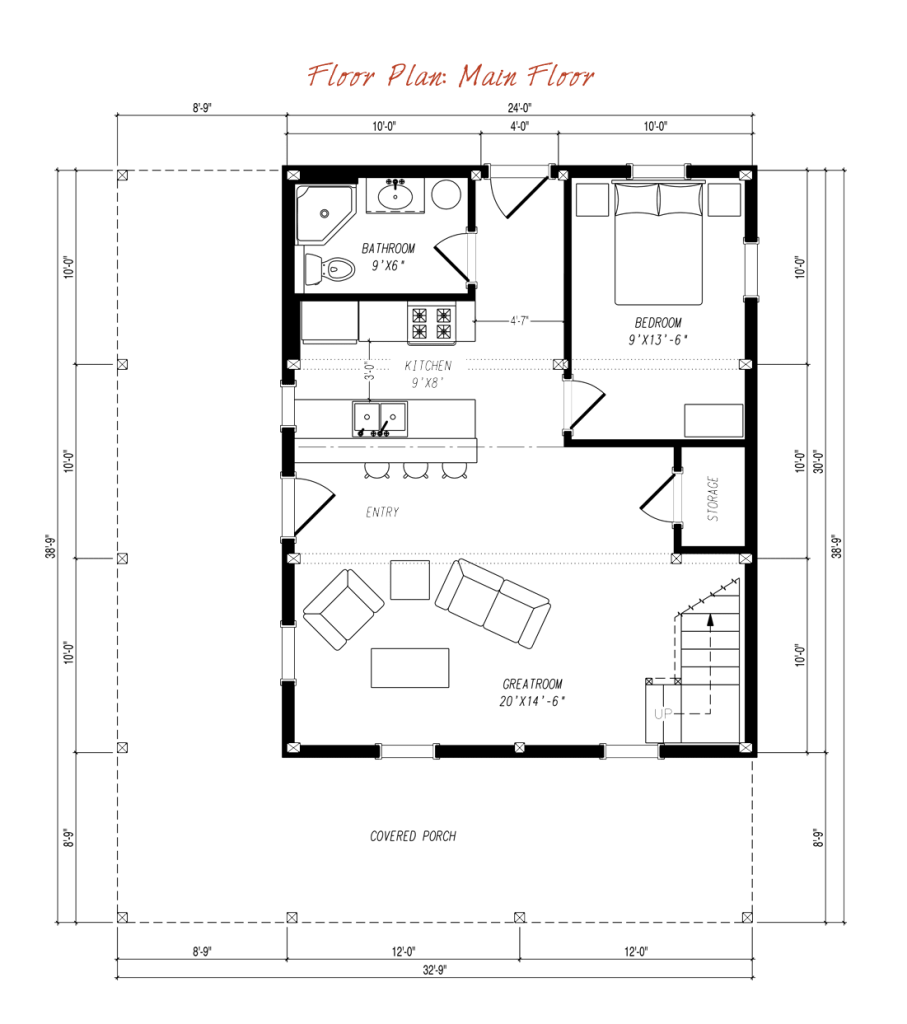 If you want to have extra space in your barndominium, it must be great to design it into two stories. This floor plan, then, can be a compact sample for you.
Pros:
The floor plan is perfect for a small space.
Thanks to the loft, you can have a storage room and an additional sleeping area.
Cons:
The kitchen is too narrow, so you may need to organize your kitchen appliances well.
Price:
The cost of this barndominium kit is $57,736. This price doesn't include interior finish, residential doors and windows, roofing materials, and site preparation.
5. Spacious Barndominium with Three Bedrooms
If you have enough space to build a barndominium that can accommodate a big family, this floor plan is an ideal option for you.
This floor plan showcases the livability and the openness of a barndominium design. The great room, kitchen, and dining room are perfectly open for a more spacious feeling inside the barndominium.
Pros:
This floor plan offers adequate space for your big family.
Cons:
The plan works if only you have enough area to build this barndominium.
Price:
The kit price is $132,315. However, the final cost of building this barndominium may exceed $300,000 when the project is done.
Also read: Quonset Hut Homes
6. Space-Effective Four Bedroom Barndominium
This is one of the best barndominium floor plans for a family with more than three members. You'll get four bedrooms in addition to one kitchen, one living room, two bathrooms, and many more spaces.
Pros:
This plan allows you to build a spacious storage room if needed.
Cons:
The plan is somewhat like a boarding house.
Price:
The total expense of this project may cost more than $200,000.
7. Large Barndominium with Four Bedrooms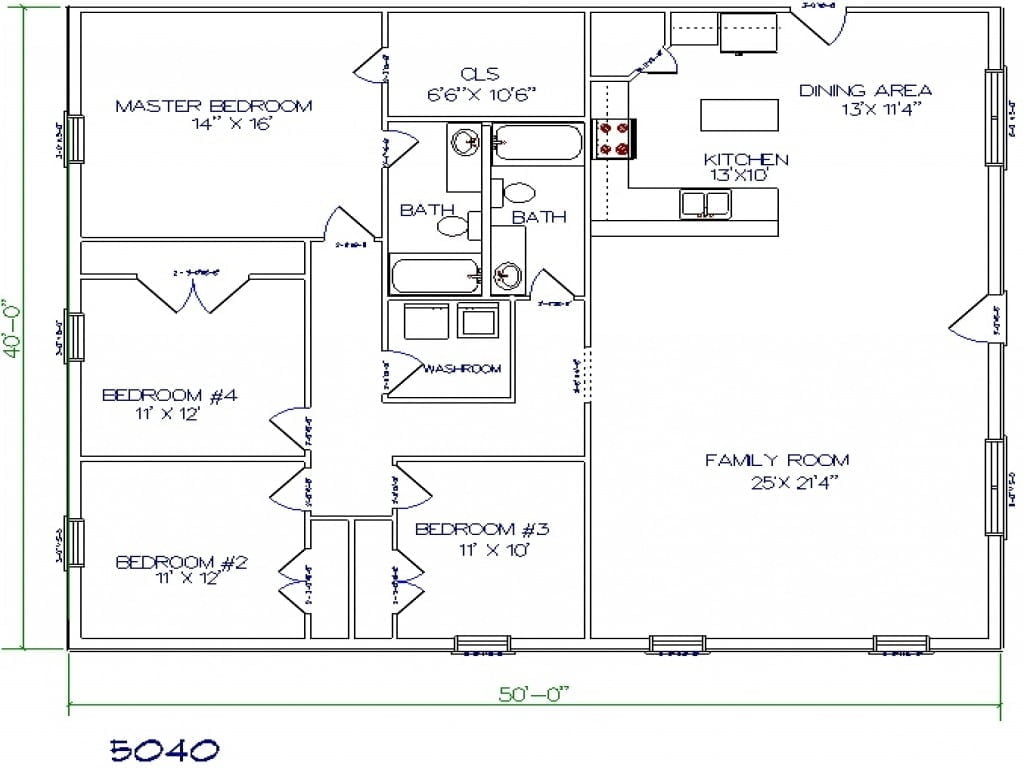 If you and your family want some privacy in using the bedrooms, you should try this plan! There is an empty corner in each bedroom's entrance that avoids you to directly meet other people in the living room every time you leave your room.
Pros:
This barndominium makes a great place to gather up.
Cons:
You should have a lot of money to build this big barndominium.
Price:
The final cost of the project can be anywhere from $300,000 up.
Now that you've looked to some of these barndominium floor plans, you can choose and decide which one of these plans is the best for you. After all, don't forget to select the one that suits all of your needs and have a nice day!
Read also : Metal Building Homes Buying Guide: Kits, Plans, Cost and Insurance
Source: