The kitchen is the busiest place in the morning. You have to race against the time to prepare breakfast for your family.
Therefore, you need to alleviate the stress by overhauling your kitchen. Check out these 4 best kitchen remodel ideas before and after.
1. Kitchen Remodel on a Budget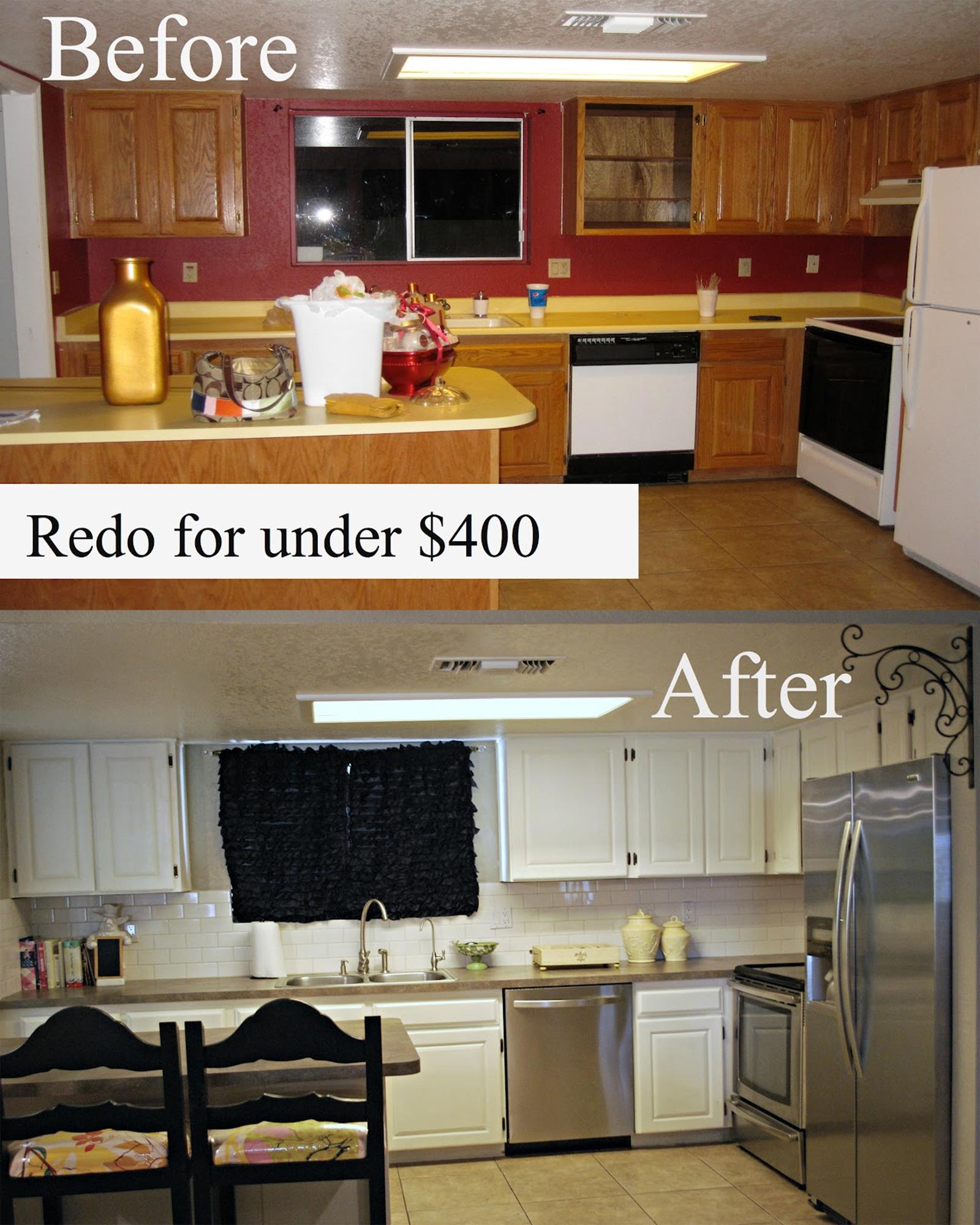 This kitchen used to be dull with the red wall and stained cabinets. The old-school kitchen sink was not appealing at all which made the homeowners felt that doing the dishes was a real chore.
Therefore, she needed to overhaul her kitchen and turn it into a comfortable place. She began by replacing the sink with a new one.
Luckily, her husband is a plumber so she did not have to spend more money to have it fixed. Then, she painted the cabinets white after removing the doors for a fresher look.
She also replaced the kitchen appliances and fridge and install white subway tiles for the backsplash. The white tiles complement the cabinets very well, making them flow into one being.
The total cost that was spent to refurbish this kitchen $380. If you want to apply these remodeling ideas, you had better prepare for more money especially if DIY is not your thing.
If you want to get a new countertop without burning a hole in your pocket, you can try painting your countertop with special paint which costs approximately $79 to $147. It is much cheaper than purchasing a new countertop, right?
2. Fresh Turquoise
You might not believe that the first and second pictures are the same kitchen. And that is true! The remodeling project is such a great success because it has turned a drab kitchen into a kitchen where you want to stay for a little bit longer.
The most significant difference between the old and new kitchen is in the cabinets. Some upper cabinets used to hang on the wall which made this small kitchen look more cramped.
Therefore, the homeowner decided to rip the upper cabinets off and replace them with open shelves for a more spacious and efficient kitchen.
Besides removing the upper cabinets, she also removed the tiles. Then, she installed paneling for a more affordable backsplash that infuses the beach kitchen style. To jazz this white kitchen up, turquoise was chosen as the accent.
If you want to adopt these ideas, you are going to need $1,492. You will need to buy maple lumbers and semi-glossy paint for the open shelves which set you back around $640. But if you are not going to replace your sink, you can save more bucks up to $200.
3. Drab Brown Kitchen Has Turned into a Chic One
Stained cabinets can add more warmth to your kitchen. But if you keep looking at the same look over a decade, you will feel bored. That is what the owner of this kitchen felt which had finally made her decide to refurbish her kitchen.
To make this dated kitchen look more fashionable, the homeowner decided to rip the cabinet doors off and replace them with shaker cabinet doors which provide a fresher look. She also painted the cabinets black for a bolder and elegant look.
She also replaced the kitchen appliances so they can complement the modern look of the new kitchen. She also installed a new range hood above the stove.
The most conspicuous and fantastic transformation is the backsplash. It used to be a plain wall without any tiles. But now, the backsplash looks epic thanks to the stacked-stone panels that cost $750. The backsplash also provides a textural element to this kitchen.
If you love these ideas and want to try for your next kitchen facelift project, you are going to need more than $1,500 as you need to replace the kitchen appliances and install the backsplash.
4. Turn a Confined Kitchen into an Open Space
Having a small kitchen is not a dead-end. You can make it look bigger or even expand its dimension by forgoing the wall that separates the kitchen and living room. As a result, you will get an open kitchen, just like this one.
This kitchen looked confined and horrible. It was hard to move through, let alone having some assistance in the kitchen. Consequently, the homeowner decided to rip the wall off and opted for an entryway which gives a dramatic look to the kitchen.
Besides knocking down the wall, she also painted the cabinets crisp white – a brilliant choice for a space-challenged kitchen as white can make the kitchen look more spacious.
The new tiles provide a glittery effect on the backsplash and kitchen island which makes significant progress to the appearance of this kitchen.
And the most wonderful thing is the overhauling project only cost $710. It is because there were not many things to do with the kitchen. The homeowners only ripped the wall off – which is free. Then, she did some affordable tricks with the cabinets and tiles.
Those are 4 best kitchen remodel ideas before and after that you can try at home. They are budget-friendly projects that will help you get your dream kitchen without costing you a fortune.
Sources: