No feature of a house welcomes you quite like an inviting and beautiful front door. Luckily today there are a variety of front door designs and styles to choose from, ensuring you'll discover the look you really wish for.
Whether you are planning for a renovation or building a new one, you're faced with countless kinds of door decisions. From materials to colors, you'll need to take all the details into account as well.
If you find it hard to decide which design and style to select, each of the ideas listed below should give you some inspirations to get the most of your front door. So, let's check this out!
1. Mid-Century Modern Front Door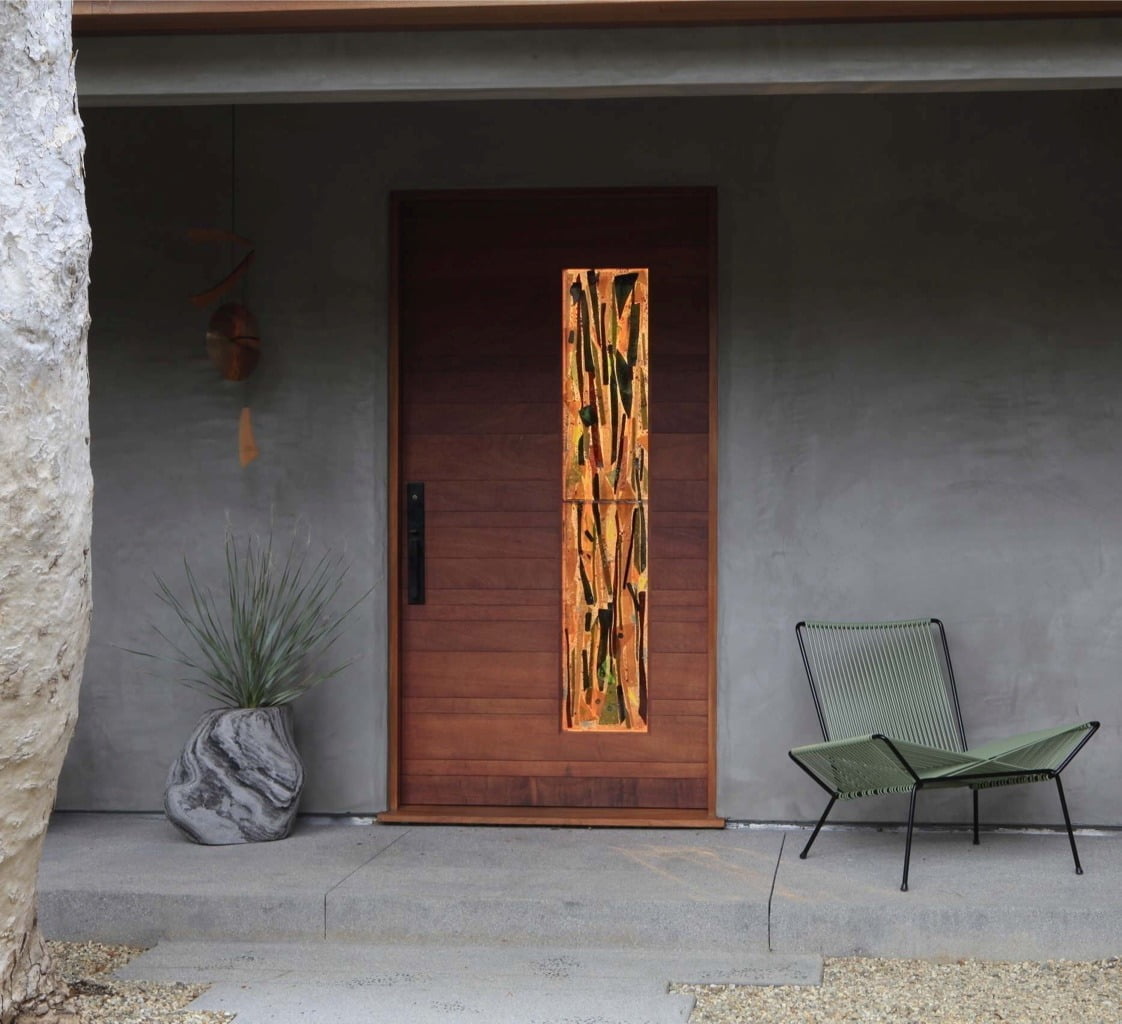 Let's start with one of the modern designs out there. The smooth horizontal wood panels put on a contemporary update along with the silky black handle.
These mid-century Scandinavian vibes are powerful with this modern front door! The natural shades of green and orange mix perfectly with the exterior décor and nearby furniture.
Pros:
The door's colors liven up the house's plain concrete exterior.
It can be a perfect front door design for a small house too.
Cons:
The door's material can be infested by termites and other kinds of insects.
2. Modern Cottage Style with Elegant Flair
Black doors aren't really popular for most homeowners. However, this black front door must make you fall in love and want to steal the look in the first glance.
As you can see, the black color of this door makes a perfect complement to the all-white wall exterior. Don't forget the glass panel too! It makes the door look amazing.
Pros:
The glass panel can provide more natural light to the interior.
The two flower planters provide a lovely complement to the whole design.
Cons:
The wall-mounted lanterns seem too big in some points.
3. Bold Red Front Door
These double red front doors provide an extra-wide entrance to your home interior. They can be one of the best front door designs out there that make a dramatic statement to your home exterior.
The clean black frame and the glass panel on both sides of the door bring the doorway area to the next level.
Pros:
The idea is cost-saving, considering that you opt for repainting your current doors with a fresh red color.
Cons:
Wooden doors can easily rot.
4. Exceptional Rustic-Style Door
Rustic-style doors are often seen on homes that feature stone, brick, or wood exteriors. They might be arched or created in the conventional rectangular form.
This rustic-style door is made of wooden materials and introduces a great complement to the stone exteriors. The vertical lines of the door make the wall seem higher for a good reason.
Pros:
The design is simple and can be easily applied to any rustic-style homes.
The decorative rustic barn handle fits the door perfectly.
Cons:
You may find it bulky since rustic doors like this are typically thick and heavy.
5. Popular Classic-Style Front Door
If you want to have such front door designs which can easily found in the market, opt for a classic-style front door!
This style is commonly available in wood, fiberglass, and metal options and a custom feature if you're considering buying the ready-to-install one. This custom option is perfect if your home doesn't have the standard size of door openings.
Pros:
The sleek black color of the door introduces a splash of elegance to the neutral exteriors.
You can easily repaint the door with another color once you need a cost-saving update in the doorway.
Cons:
The classic ring door knocker isn't really necessary especially if you have installed a modern doorbell.
6. Awesome Craftsman Style Door
This is another widely popular door style for many homes. If you're planning to have a simple craftsman door design, this picture can be a great example.
This wooden door features wood-outlined panes, a typical craftsman door's feature and a classic door handle along with a doorbell button.
Pros:
The glass panes in the door provide additional natural light to the home interior.
The color of the door makes an ideal complement to the whole exterior.
Cons:
Wooden doors can easily rot and be infested by termites.
7. Flawless Arched Front Door
While arched doors can fit into a range of styles including craftsmen, rustic, and traditional, their curved design offers them a distinctive appeal and look.
Just like the one you see in the picture, the curve style of this arched door bestows an eye-catching architectural feature with loads of appeal.
Pros:
The design can be easily adapted to any home style.
You can refinish the door when needed.
Cons:
Wooden doors are typically infested by termites and other insects.
Those are a few ideas to look to when you're planning to update or build a front door. Now, you can choose one of those front door designs and make the most of your exterior!
Sources:
http://www.home-designing.com/