Walk in showers for small bathrooms would be something you need for your house. A small-sized bathroom could be tricky to design. So, we have to be clever to decide which one we should apply inside.
Having a walk-in shower inside a bathroom can add elegance and chic. A modern appeal look would be shown all over the bathroom.
1. Small Walk-in Showers with Subway Tile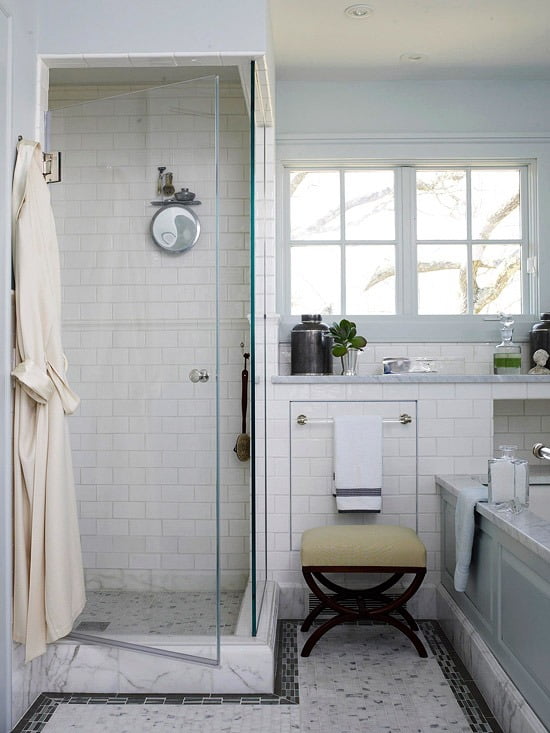 A subway tile design is quite trending for a walk-in shower in the bathroom. In fact, it could give an accentual elegance into your bathroom. You have to choose the one with bright colors like clean white in order to make it suitable for small-sized bathrooms.
Pros:
– A subway tile would give a sense of texture on the wall
– It's easy to look stunning with this tile.
Cons:
– It would be easy to get it dirty since the color is white.
– A little chance to add more decors on the wall
2. Walk-in Showers with Tinted Glass
Tinted glass for the walk-in shower is something you can try for your small bathroom. As you can see in this beach-style bathroom, the tinted glass really makes a statement to the atmosphere of the bathroom.
The white tile in this small bathroom is applied all over the wall. It makes you need something to accentuate besides decoration. Tinted glass is a good choice for a focal point.
Pros:
– The shower area is in the perfect location
– The concept design gave you enough room to pass between all elements.
Cons:
– The yellow color on the ceiling and flooring shower are not necessary
– Too much white in one bathroom.
3. Rectangular Walk-In Shower
For your small bathroom, you should look for a smaller option of a walk-in shower to maximize the space. This rectangular shower pans might be something to consider. You will have more space to get efficient doing your stuff inside your small bathroom.
But, you need to get used to showering in a narrow space with a shallow pan. If that's not a problem, it would be fine.
Pros:
– It's a nice bathroom option for your apartment.
– The white color is the key to this small bathroom
Cons:
– It's a got a really narrow space for a comfortable bathroom
4. Walk-In Showers For Small Bathrooms Without Glass
Most walk-in showers are equipped with glass door and wall. One conventional option you can have for the walk-in shower is the non-glass wall with no door.
The concept is a little bit traditional with a natural touch from the vines. It also acts as a nice separator from the rest of the space in the bathroom.
Pros:
– The vines or plants make the bathroom more natural and soothing
– The traditional style offers an elegant beauty to the bathroom
Cons:
– The floor patterns are a little bit too much.
5. Glass Block Walk-In Shower
The curved design tends to be having a notched up style. Not only curve, but it also got rounded ends. Those are the reasons why it's possible to make your small bathtub area to be a walk-in shower. The glass black texture also adds a luxury look to this small bathroom.
Pros:
– It's a great option to have a luxury look to your small bathroom
– There're only a few blocks of glass needed
Cons:
– It's probably an expensive option to add to your bathroom
– Cleaning them would be extra work.
6. Mosaic Tile in Walk-in Shower
You can expand your small bathroom with this walk-in shower idea. It's packed with a knee wall that accommodates the shallow vanity. The mosaic patterned tile all over the shower space has a reflective surface.
The surfaces would let the lighting or natural light to shine around the space. It's a great way to make a small bathroom look roomier.
Pros:
– It would easily be the focal point of the room
– The knee wall upgrades the whole room
Cons:
– It's a huge distraction to get you a bit uncomfortable
– The pattern design won't feel soothing
7. Small Bathroom with Full-Out Bathroom Experience
To achieve this outstanding look of a bathroom, you're going to need a lot of creativity. Even though the room is pretty small, it could accommodate both bathtubs and walk-in shower in a different space. The maximum effort in designing this bathroom is something we should appreciate.
However, you will lose more space to walk around the bathroom. But, space is enough for your walking area.
Pros:
– It's a clever way to optimize the area
– The elements are complete
Cons:
– It's too crowded
– The window presence doesn't really help the cramped space
Conclusion
Having a walk-in a shower inside a small bathroom is definitely not impossible. Because those 7 walk in showers for small bathrooms ideas would let you have a fantastic experience enjoying your shower time in a special space even though you only have a limited-spaced bathroom.
Sources:
https://blog.innovatebuildingsolutions.com/2017/12/15/5-walk-in-shower-ideas-tiny-bathroom/