As the busiest room in your house, your kitchen needs to overhaul so it can provide the ultimate comfort for you. However, being comfortable is not enough. Check out these 7 stunning ideas about simple kitchen design for middle class family.
1. White Subway Tile Kitchen
This white kitchen provides a spacious space to move through. The U-shape layout allows you to move from the kitchen sink to the stove more easily and faster, making it a perfect time-saving kitchen for a multi-tasked person like you.
White subway tiles are installed as the backsplash of this kitchen. The classic arrangement infuses traditional ambiance to this kitchen. The sleek and glossy surface reflects natural light perfectly, making this kitchen look a bit larger.
Instead of a kitchen island placed in the middle of the kitchen, you can find a round dining table with four chairs here. An elegant brass pendant light hangs over the dining table, making a perfect mealtime.
Pro:
The absence of upper cabinets makes this kitchen look more spacious
Con:
Ditching the upper cabinets means reducing storage space
2. White and Grey Kitchen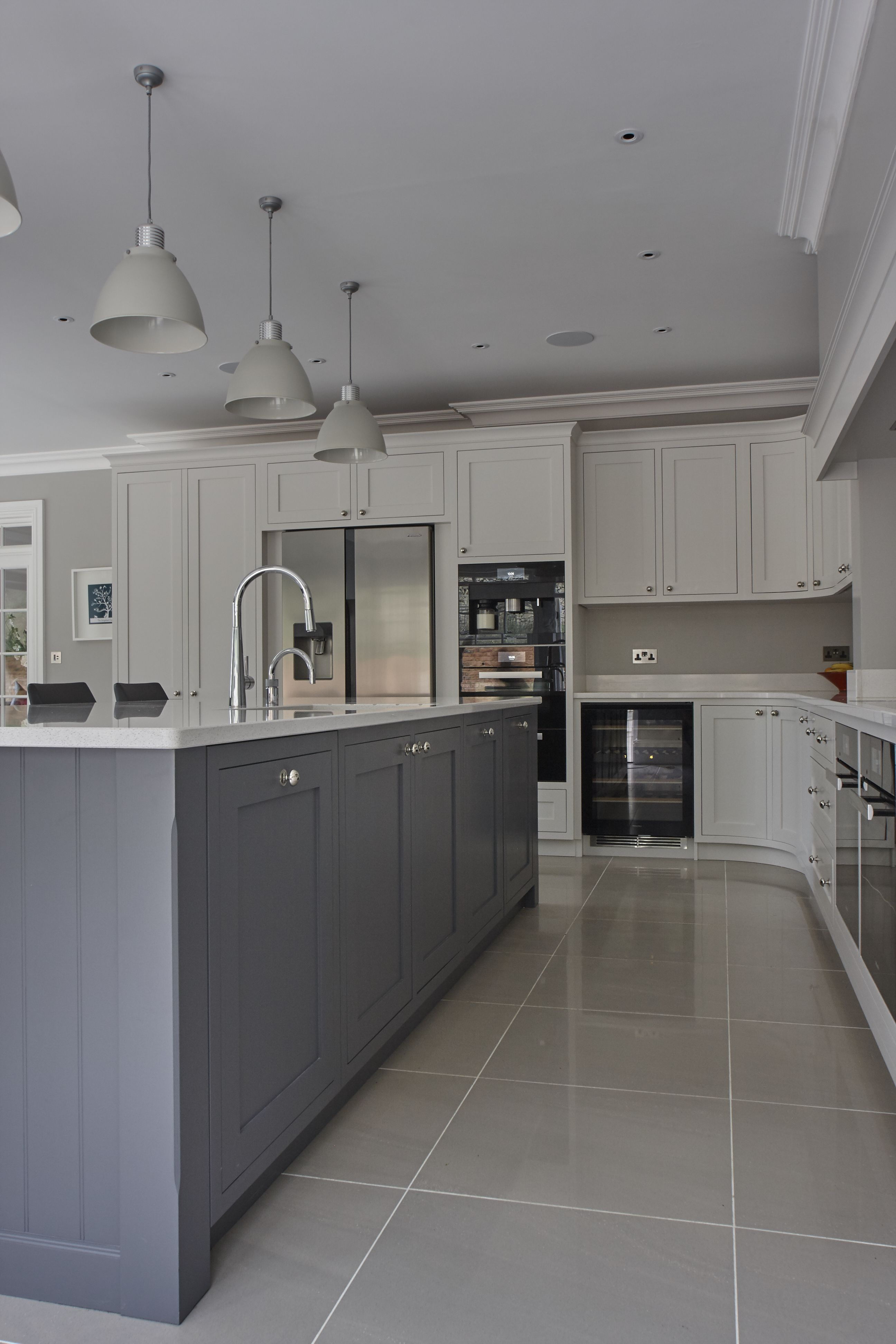 Using neutral colors is a simple way to add the touch of elegance to your kitchen as well as making it visually bigger. The use of huge tiles also helps you trick the eyes to think that this kitchen is more spacious.
A spacious kitchen island provides sufficient workspace for multiple users at once, allowing you to have some assistance when you have a lot on your plate.
This kitchen is not only comfortably sized but also look classic – but not dated – with the shaker cabinets. Four white pendant lights also accentuate the classic look of this modern farmhouse kitchen.
Pro:
Wide ceramic tiles make the kitchen look larger and the smooth surface soothes the feet well.
Con:
Ceramic tiles can be slippery.
3. Simple Small Kitchen with Suspended Cabinets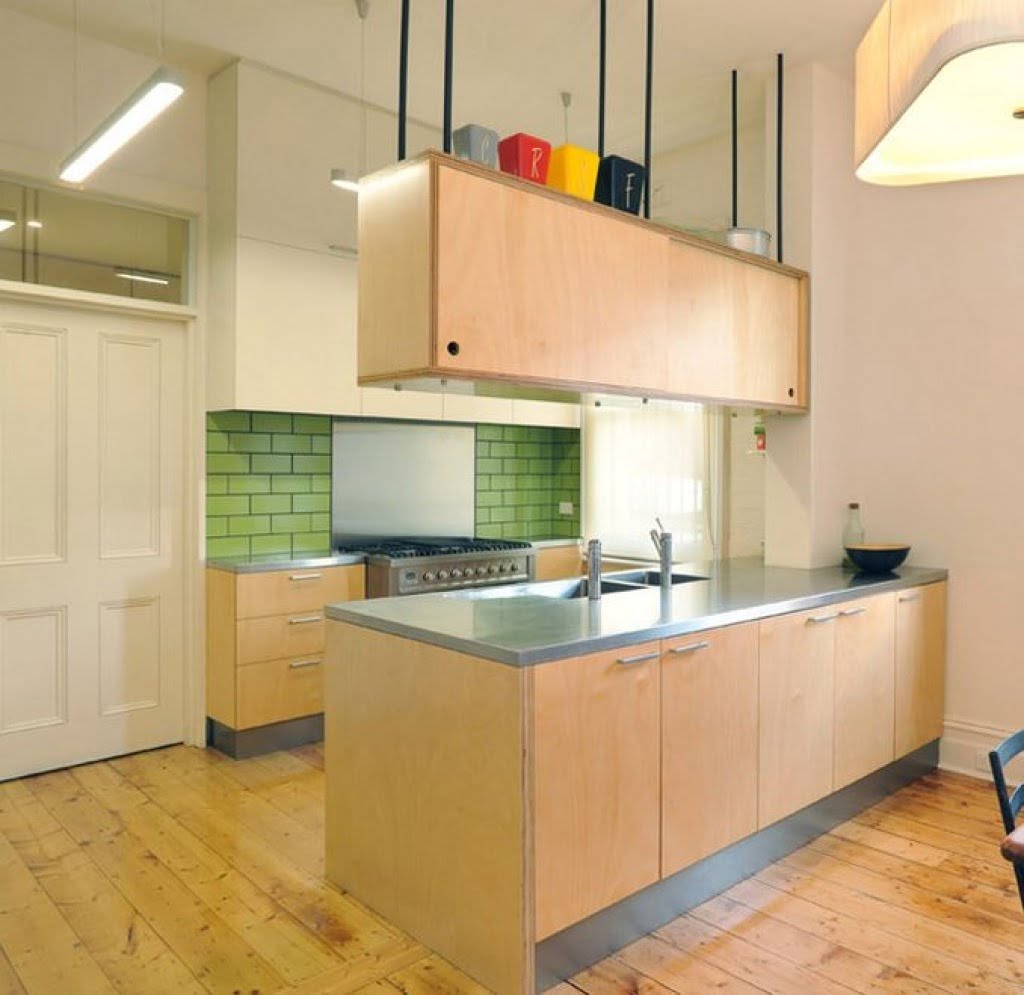 This kitchen is rather small, but it gives you a cozy place to cook delectable foods. Since it is not a big kitchen, not incorporating a kitchen island is the best choice so it will not feel more cramped.
Besides, you can still have sufficient workspace next to the kitchen sink. Despite the small size, this kitchen features lots of cabinets that you can use to keep the clutter at bay. You can even find cabinets that hang over the kitchen island.
Instead of butcher block, stainless steel is installed as the countertop. The sleek and glossy finish of the countertop gives the touch of a modern kitchen style.
Pros:
Stainless steel countertops are resistant to water, heat, and stain.
They are easy to clean.
They are durable.
Cons:
Stainless steel countertops are prone to dent.
You can scratch them easily.
4. Tunnel-Shaped Contemporary Kitchen
Have a tunnel-like kitchen? No problem! Your kitchen can be comfortable and stylish if you use the right furniture. In fact, it can even look classy and lavish.
For a tunnel-like kitchen, a U-shape kitchen layout would be the best choice. You do not need to add a kitchen island as there is not enough space for it. Just keep your countertop clean, and you will get sufficient workspace.
For an undersized kitchen like this one, you should avoid installing sophisticated cabinets or trims. Less fussy cabinets with sleek design and clean-line edges would be much better.
Pro:
Sleek cabinets reflect the light which makes it appear to be larger.
Con:
The cabinets can be costly
5. Spacious Modern Kitchen
Fabulous is the proper word to express how cool this kitchen is. The spacious floor space allows you to move through comfortably. You can even have some assistance in the kitchen without feeling uncomfortable.
The furniture and kitchen design are minimalist. Clean-line-edge cabinets with simple pulls denote a modern kitchen well. Veneer is used to reface the cabinets so they add more warmth to the kitchen.
To accentuate the modern look of this kitchen, linoleum flooring is installed. It provides a clean look to the kitchen. There is no grout, which makes the kitchen flow into one being.
Pros:
Linoleum flooring is durable.
It is also made with renewable materials, meaning it is eco-friendly.
Cons:
Linoleum flooring can get dented easily.
It is susceptible to moisture.
6. Elegant Beige and Black Kitchen
This kitchen looks elegant and bold thanks to the beige and black finish. The backsplash which is used mirror tiles reflects the lighting beautifully, making the kitchen look lavish.
Pro:
The kitchen looks elegant
Con:
The kitchen appliances and the backsplash can be pricey.
7. White Modern Farmhouse Kitchen
This kitchen has successfully brought the past elements while maintaining modern charm. White subway tiles represent the traditional style in this modern farmhouse kitchen. The apron sink still looks fashionable although it belongs to the previous trend.
Pro:
Marble countertop is a great choice to add a luxurious ambiance.
Con:
Marble countertop might cost you a fortune.
Those are 7 best ideas about simple kitchen design for middle class family. These kitchens have proven that size does not matter at all. What matters is anything that can make you feel comfortable.